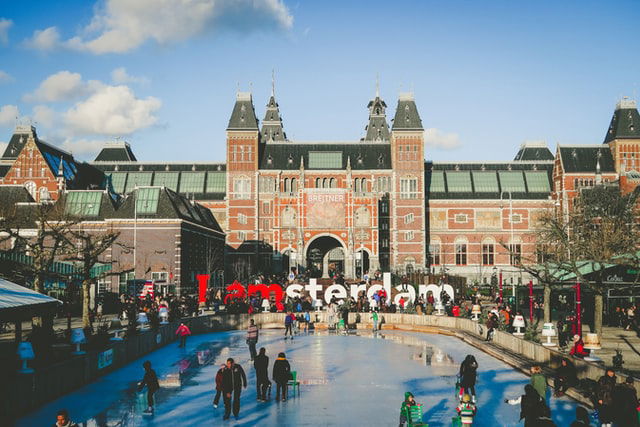 Visiting Amsterdam and wanting to travel with ease? Travel as locals do in style with our affordable Amsterdamse taxi. We at AmsterdamseTaxi pride ourselves in punctual rides, great prices, and professional drivers that speak both Dutch and English and can help you make the most during your time in and around Amsterdam.
Book your taxi Amsterdam ride today and easily make a reservation online. Want to know more about how we work and why so many people keep choosing for us at AmsterdamsTaxi? We'll tell you all about it on this page dedicated to all you taxi Amsterdam services like rides to:
Taxi Amsterdam Noord
Taxi Amsterdam Oost
Taxi Amsterdam Zuid
Taxi Amsterdam West
And Taxi Amsterdam Schiphol Airport
Book your Taxi Amsterdam with ease
Looking to travel through Amsterdam, or want to visit one of the iconic Dutch sightseeing places? Book your taxi ride with ease through our online form. You can easily make a reservation with our on-site booking system. Do you prefer to book a ride by phone? Feel free to call us! Our experienced taxi center will book a ride for you and ensure you get to your destination on time.
How we became the number one choice of Amsterdam
It's no secret that traveling by cab (commonly known as taxis in the Netherlands) is the preferred way of transportation for a lot of tourists. But did you know that a lot of native dutchmen living in the Netherlands also take to taxis for their everyday trips? From businessmen to school services, the Dutch just love to travel in comfort and with the safety of knowing that they will arrive on time.
However, not every taxi in Amsterdam is alike. Whilst most try to provide an excellent service, some just want to maximize their profits from tourists, use inexperienced drivers, or drive unpleasant cars.
That's why we at Amsterdamse Taxi took our traditional taxi services and elevated them to a new level, blowing past our competitors and establishing ourselves as the number one choice for tourists and locals in Amsterdam.
The reason for this is simple, our taxi Amsterdam focusses on the core principles that were important to us from the start:
Professional drivers that know the area
It takes a special kind of driver to ensure first-time visitors and Amsterdam veterans get the taxi experience they want. That's why we at AmsterdamseTaxi have a strict recruitment policy in order to ensure you get a ride from the best taxi drivers in town. All our taxi drivers:
Know the best places and routes in and around Amsterdam.
Have been trained to provide the best rides.
Are experienced drivers.
Speak both English and Dutch.
Can help you with unbiased suggestions for places to visit.
Taxi Amsterdam cheap
The Dutch are known for the fact that they are always looking for a bargain. With AmsterdamseTaxi you too can enjoy this experience. Are you looking for a Taxi Amsterdam cheap? Then we've got you covered. Not only do we offer great rates for trips, but we also have a low and flat fee of €40,- to travel to and from Amsterdam Schiphol Airport.
Always on time
Traversing through Amsterdam is quiet a challenge for first time visitors and veterans alike. That's why we praise ourselves with an amazing 'Always on time' service. Not only do we ensure your taxi is at your location on time, we also make sure you get to your destination with ease.
Visit famous Dutch sightseeing places
Want to explore the Netherlands and Amsterdam to the fullest? Why not visit famous and must-see places like Giethoorn, Zaanse Schans, Keukenhof, and more! You can read all about it here or ask our drivers for more information!