Taxi to and from Schiphol and Amsterdam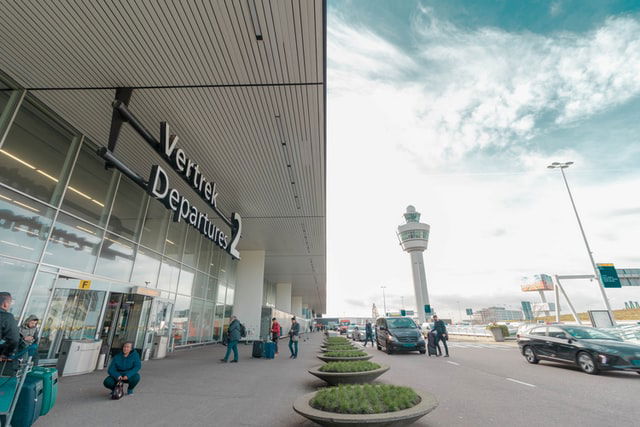 Traveling from or to Amsterdam Schiphol Airport can be a stressful journey for both locals and tourists. That's why a lot of people choose a professional taxi Schiphol service. We at AmsterdamseTaxi know exactly what it takes to get you to the airport on time and get you to your accommodation or destination.
Want to enjoy a stress-free, professional and luxurious trip? Choose for AmsterdamseTaxi for all your taxi Schiphol needs.
Taxi Schiphol for only €40
Taking a taxi in Amsterdam or Schiphol should be easy, no one wants to spend an hour to find a good taxi for a decent price. With all the overcharging cabs and illegal taxis around Schiphol, this often proves a challenge for first-time visitors and seasoned tourists alike. That's why we at AmsterdamseTaxi make it as clear and easy as possible:
We provide professional taxi Schiphol rides for a flat rate of €40. No back-alley drivers, no hidden costs. The reservation must be made 24hours before.
With our amazing team of drivers, we strive to provide the best holiday, business trip or commute experience possible. It should come as no surprise that every day more and more people choose AmsterdamseTaxi as their preferred way of traveling from and to Schiphol.
How we guarantee the best taxi Schiphol experience
We believe a great taxi ride shouldn't be difficult. That's why we take all the hassle out of traveling. Our professional and experienced drivers will stand ready for you at Schiphol, personally picking you up and bringing you and your luggage to our premium taxis. From there we'll drive you effortlessly to your hotel, BNB our other destination.
Looking for a Taxi to Amsterdam Airport? We can also pick you up from anywhere and bring you to Schiphol airport on time for your flight. Our drivers always help you with loading and unloading your luggage, and can help you get around Amsterdam with ease.
Book your taxi Amsterdam Schiphol online
Whether you're about to arrive at Schiphol, or need to catch a flight in the early morning, we at AmsterdamseTaxi are available 24/7 to have your back. Booking a tax Schiphol has never been easier with our online reservation system. This is how it works:
Let us know the place we should pick you up
Looking for a taxi Schiphol Amsterdam? Just fill in 'Schiphol' as the starting address.
Let us know the destination
We can drive you to any hotel, BNB, conference center, or any other location in and around Amsterdam. If you're not exactly sure of the address, feel free to contact us! We'll personally help you out with the details.
Let us know your group size
AmsterdamseTaxi can transport any size of group traveling to and from Amsterdam Schiphol Airport. Traveling alone? No problem! Traveling with a huge group of people? We've got you covered. We have both personal and group vehicles, and can drive up to 8 people at a time. Traveling with 8+ people? Feel free to contact us! We can provide multiple taxis to pick you up and drop you of at your desired destination.
Visit Amsterdam and well-known sightseeing spots
Not only is Amsterdamse Taxi the preferred way to travel to and from Schiphol, but we also provide transportation to famous places in and around Amsterdam. Always wanted to visit the Keukenhof, Giethoorn, Volendam, or other amazing places? We offer package deals for taxi rides to every location you'd want to visit. Read more about it here or ask for more information by sending us a mail or contacting us by phone.