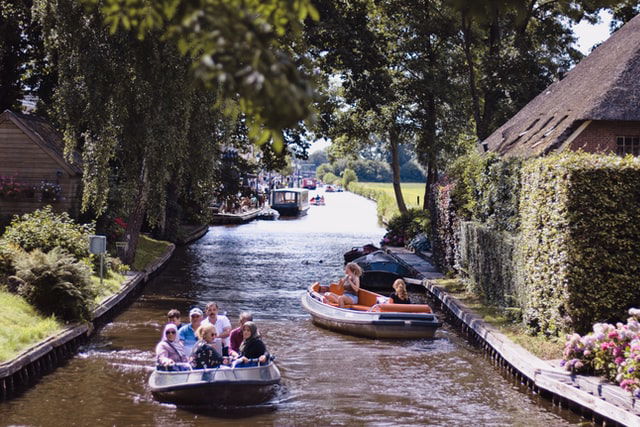 A city not traveled by car, but by boat. It sounds surreal, but for the inhabitants of Giethoorn, it's business as usual. In one of the most famous towns of the Netherlands, people rely on boats to get around town. Tourists are most welcome to experience this unique town by boat and enjoy the picturesque views from the waterside. There is just one problem, getting there can provide a real challenge. That's why almost everybody takes a taxi Giethoorn to get from Amsterdam to Giethoorn.
Giethoorn is not near Amsterdam
First-time tourists often think Giethoorn is within biking or public transport distance from Amsterdam. However, it is located in the countryside far away from the hectic city life. And because of its reliance on boats, it hasn't got a proper train station. Going by public transport can easily take up to 3 to 4 hours for a one-way trip.
Using a taxi from Amsterdam to Giethoorn is the most sensible way to travel, as it cuts the travel time to about an hour and a half.
Taxi from Amsterdam to Giethoorn
We at AmsterdamseTaxi not only help tourists but also locals get around. Due to our stellar service we've become the preferred taxi to Giethoorn. Looking to get to Giethoorn from your hotel or apartment in Amsterdam? Feel free to book a trip or contact us through our website. We offer:
Great rates and cheap taxi rides to Giethoorn:
We believe a great taxi ride to Giethoorn shouldn't cost a fortune. That's why we offer competitive rates for our quality service.
Professional and bilingual drivers
Our local drivers not only speak Dutch, but they are also fluent in English.
Taxi from Amsterdam to Giethoorn, always on time
No one wants to wait for their taxi to arrive. That's why our drivers ensure they pick you up on time and get you to Giethoorn fast and safely.
For small and big groups
Whether you travel alone or with a large group, we at AmsterdamseTaxi have suitable taxis for your needs.
Book your taxi Giethoorn online
It has never been so easy to book a taxi Giethoorn with AmsterdamseTaxi. Just fill in your details through our online form in order to make a reservation. Our drivers will pick you up at the desired time and take you to your destination. All our drivers speak both Dutch and English and will help you to the fullest.