Visit Volendam by taxi from Amsterdam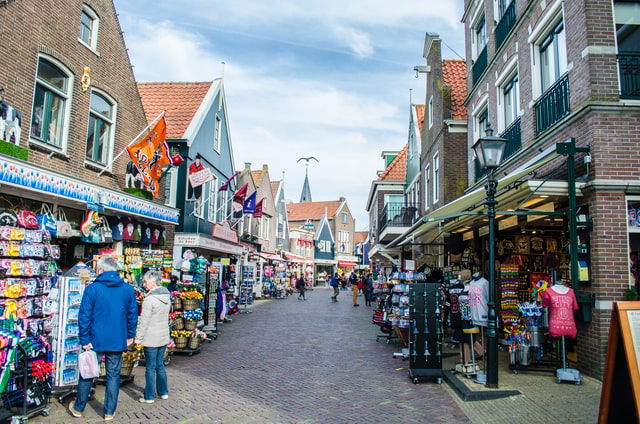 There is no place in the Netherlands as unique as Volendam. Whilst it's only a 20km drive from Amsterdam, the contrast couldn't be bigger. From the bustling metropole of Amsterdam to the picturesque and classic town of Volendam. Tourists and locals alike visit Volendam to explore the classical Dutch architecture, enjoy the authentic Dutch way of living and eat fresh fish which local fishermen catch daily.
Hands down the best way to get from Amsterdam to Volendam is to take a taxi. We at AmsterdamseTaxi are specialized in Taxi Volendam rides from and to Amsterdam, Schiphol and more.
Taxi from Amsterdam to Volendam
Although Volendam is located near Amsterdam, it's still quite a long way to travel by public transport or bike. That's why most people choose a taxi Amsterdam Volendam. With our professional drivers and cabs we'll get you to and from Volendam with ease. Our drivers know the best spots in Volendam and can drop you off wherever you'd like.
Taxi Volendam Schiphol
Visiting Volendam straight from Schiphol Airport? We at AmsterdamseTaxi offer a direct ride with our Taxi Volendam Schiphol. Our licensed drivers pick you up in the airport, help you load your luggage and will take you to your hotel or apartment in Volendam.
We can also help you the other way round. When traveling to Schiphol from Volendam our drivers will make sure to get to you on time, and ensure you'll make your flight. Want to know more? Feel free to contact us for more information.
Book your taxi Volendam online
It has never been so easy to book a taxi Volendam with AmsterdamseTaxi. Just fill in your details through our online form in order to make a reservation. Our drivers will pick you up at the desired time and take you to your destination. All our drivers speak both Dutch and English and will help you to the fullest.