Visit Zaanse Schans by taxi from Amsterdam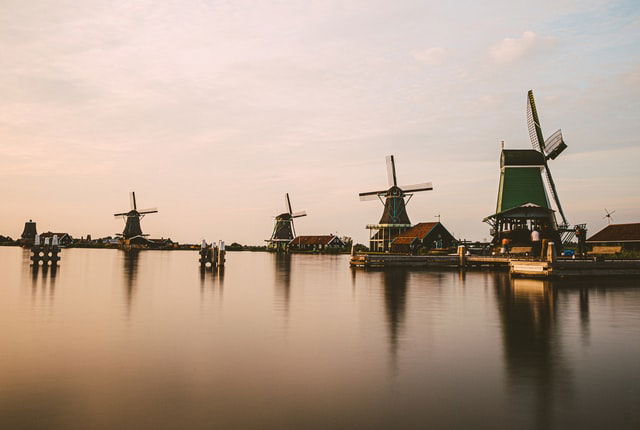 The Netherlands has many sightseeing places, but none are so iconic as the Zaanse Schans. These beautiful Zaanse Schans windmills are a must-see attraction for many tourists visiting Amsterdam for the first time. But did you know that in order to visit them, you best can travel by car? That's why we at AmsterdamseTaxi have a special taxi service to drive you to and from this spot with our taxi Zaanse Schans.
Enjoy the most iconic scenery of the Netherlands
Zaanse Schans windmills, tulip fields, and waterways form the most iconic scenery of the Netherlands. However, Zaanse Schans is more than a picturesque picture, it is a full fledged place to visit and enjoy. They have small stores and workplaces where traditional workers bake cookies, make wooden clogs, and more!
Book your taxi Zaanse Schans online
Getting to the Zaanse Schans can be challenging, as it is not a destination that's easily accessible by public transport. Even taking into account our stellar train network, it is still a 20-minute walk from the nearest station.
That's why most people prefer taking a taxi Zaanse Schans, it is by far the easiest way to get to Zaans Schans from Amsterdam. You can book your ride online through our online reservation form. Just let us know when, and with how many people you'd like to make the trip, and we will get you there on time.
Why do people choose AmsterdamseTaxi
There are multiple reasons why AmsterdamseTaxi is the preferred taxi service to get to Zaanse Schans from Amsterdam:
Professional and multilingual drivers
Our drivers speak both English and Dutch and are always willing to go above and beyond to help you out.
Low rates, great service
A taxi Zaanse Schans shouldn't cost much. That's why we charge the lowest rates among taxi drivers in Amsterdam. We are fully licensed, have luxurious cars, and know what it takes to give you the best taxi experience.
Always on time
Whether you need to get to the airport or need to get to the Zaanse Schans on time, we got you! Our drivers make sure that they arrive on time and take the best routes so you'll never be late again.


Book your taxi Zaanse Schans here
It has never been so easy to book a taxi Zaanse Schans with AmsterdamseTaxi. Just fill in your details through our online form in order to make a reservation. Our drivers will pick you up at the desired time and take you to your destination. All our drivers speak both Dutch and English and will help you to the fullest.